How To Get into IVY Leagues & Other Top Universities?
Did you know that more than 94% of applicants don't make it to their dream schools?
There are 2 KEY reasons for such a high yield rate:
Poor Profiles (Low scores, lack of work experience, poor extracurricular, average LORs).
Good profiles but the poor presentation (Applicants with great profiles get rejected as they are Unable to portray their strengths, learnings and goals through their application).
Being someone who has been through the admission process, received admission from top universities, had the experience of studying in a renowned university/elite colleges of the world such as MIT (Massachusetts Institute of Technology) and having guided people in getting into top colleges such as Columbia University, Cornell University, University of Pennsylvania, Duke, HEC Paris, LBS etc. I can confidently say that I have cracked the answer for every individual who aspires to study in truly renowned universities in the world.
What if I told you that I have designed a systematic ACTION PLAN that helps you beat all of the above obstacles?
I will take you through an effective approach where you will learn:
How to choose an Ideal School which matches your profile
How to compensate your low GMAT/GRE score by value addition activities
What should be done to create an effective essay that will help you to stand out from the competition
What should be done to create an effective essay that will help you to stand out from the competition
The three elements which define a Good Letter of Recommendation
Which Extracurricular Activities matter
I will also answer all your questions which you have during the process of drafting the best application for your dream school and make sure every aspect of your application stands out as the best.
1. I HAVE A VERY BUSY SCHEDULE WITH ONGOING PROJECTS IN MULTIPLE LOCATIONS WORLDWIDE, MANAGING MY FIRMS, ATTENDING UNIVERSITY AND MORE; THEN WHAT MOTIVATED ME TO GUIDE OTHER ASPIRANTS LIKE ME WHO WANT TO STUDY IN A TOP UNIVERSITY?
Did I tell you the story of one of my friends who came to me after multiple university rejects? He had a very impressive profile - Engineering bachelors from a top university, GMAT score of 720, decent CGPA and a year of work experience with a well-recognized brand. Still, he got rejects from schools like Duke, HEC Paris, and Michigan. Moreover, he had hired a local admissions consultant for his application and hence his result was even more surprising. When he sought my help, I did a fresh evaluation of his profile and realized that his essays failed to showcase his calibre and impact that he created through his projects. Additionally, his consultant had taken a template-based approach and created a generic application for all his target school applications. Every School has different expectations from its ideal student. To get a fair shot, you must customize your applications to convince the admission committee why you belong to their program. Adding to that, my friend told me that he received subpar service from his local consultant - Late edits, insufficient time commitment, unclear understanding about how to compensate for a profile weakness.
This story sounds familiar, isn't it?
Almost everyone has heard such horror stories, maybe from friends, family or acquaintances. Very often, applicants assume that a consultant's physical presence is an important factor in getting a better service. However, such myths turn out to be the biggest stumbling block in selecting a quality admissions consultant.
How you may ask?
Consider this scenario. If LBS, Wharton, Duke or HEC happen to be your target schools, your ideal admissions consultant should be an alumnus from a B-school of similar rankings. Considering that consultants of this calibre globe-trot to handle multiple assignments, will you let go of the opportunity ONLY because you cannot establish a face-to-face consultation? If face-to-face service is a mandatory requirement from your side, you may have to settle for a consultant who can be physically present but may not be the ideal fit for your profile. Admission consulting companies have gotten increasingly commercialized and most of the consultants are just normal graduates.
I Began as an aspirant and having gone through the process myself, got fed up with this commercialization and decided to try a new approach to help aspiring students who want to study abroad and increase their chances of getting an admit from their dream college.
2. WHY DO YOU NEED AN ADMISSION CONSULTANT TO HELP YOU WITH YOUR ADMISSION TO YOUR DREAM COLLEGE?
Did you know that one-third of that 57% of B-School applicants worldwide use an admissions consultant?
With the acceptance rates of top programs ranging from 18% to 25%, getting into a highly ranked university is tougher than ever. The application pool has a lot of students with outstanding profiles, but what differentiates the applicants is how well you know about what the school is looking for in a candidate and how you can express it in the best possible way without losing your uniqueness. A well-experienced consultant will be able to do just that. Now that you have decided to get that extra-edge or advantage in your application, it's now a question of "which consultant" rather than "why consultant".
Now when there are so many consultants emerging from across the globe, this is a very important decision to make. So how do you decide which consultant will be the appropriate fit for you and give you the best outcomes for your money?
So, when it comes to consulting in the education sector, an admission consultant can be classified into 3 types:
1.Premium Consultants (High-Value addition, Very High Prices, Personalised) Premium consultants like Accepted.com, Stacy Blackman charge approximately anywhere around $4,425-$9,002 per application. Elitist consultants are usually the ones who have been in the industry for a very long time & charge a premium price based on their brand and longevity. They have vast experience and know what they are doing, but spending more than 3000$ just on one single school is way too expensive and out of budget for 97% of the applicants, further, the same service that they give can be gained through a more economic means too.
The experience with elite consultants is useful and it helps, but then after a certain point, the value that they add is only marginal So, it is important to pay attention to the pricing - the value proposition and whether it is worth spending a lot of money while hiring such elite consultants.
2. Value Adders (Competitive Pricing, High-value addition, Personalized) So, they are consultants who have been in this industry for a good amount of time, and they are also very well aware and experienced on what matters to the schools. The majority of such companies have founders, consultants and members in the firm who have the experience of studying in the top and reputed universities abroad themselves. So, for obvious reasons they know exactly what the admission committee is looking for and how they think. The experience of being through the admission process themselves and having interacted closely with the admission committee, helps them to add a lot of value to their clients.
The solutions provided by them are customized for the budget of all ranges and they focus on providing value for money. They have fees which fall in the range of $300 -$750 And these are the recommended type of consultants, and we are proud to associate ourselves with this group. But that being said, you need to be very careful in scrutinizing and selecting who will be handling your application, the credentials of the consultants, as well as what kind of service is delivered and how it is structured. You may just be marketed into believing that you will be getting a lot of value, but in reality, that may not be the case. So do your research and due diligence before choosing.
3. Mass Market Consultants (Low prices, low-value addition, Highly commercialized & zero personalization) They are the cheapest bet in the market, they can charge anywhere in the range of $50-$100 per school! But they follow a "template-based approach", so they provide hardly any value in bringing out the uniqueness of the applicants and in the editing process. So, they have very low reliability and success rate.
Don't get deceived by the "too good to be true" combo pricing packages that they give. Good work should bring value to your application, so it isn't worth your money when the consultant doesn't give you a personalized service. Having said all this, I can confidently say that we have managed to carve out a niche space for us.
3. WHY CHOOSING US WILL BE A WIN-WIN PROPOSITION?
You might have this question, why is that we don't have a physical office?
So, the answer is simple, it is to ensure that there is flexibility and to have a higher reach through online service which is unparalleled. Moreover, personalization and being flexible will be the most sought out part of our services because of being online. And this also allows us to reach out and provide our service all over the world even to the people without access to quality service providers by breaking all geographical constraints.
So now let me point out some key areas where we differentiate ourselves from other consultants: Access to 24 hrs service -
You can reach us out at any time. We would be willing to go beyond helping out in all aspects to make sure you create the perfect application for admission to your dream university.
Profile of consultants - A graduate from top-ranked school such as MIT myself. Who has been through the gruelling admission process and also the experience of helping and guiding people to get admits from top-ranked universities such as Imperial, Columbia, Cornell, Duke, HEC Paris and so on, we have the experience and know exactly what the admission committee is looking for in an applicant and we can help you to customize your application to present yourself as the best fit for the school and differentiate yourself from the rest.
Mentoring - We do not follow a template approach and create generic applications. We have a structured approach where we take time to understand you, your areas of strength/weakness and guide you accordingly throughout the application process.
Is your goal to get admitted to the Top Schools?
There are more than 10,000 schools worldwide, and most applicants make the deliberate mistake of targeting the programs which are not the right fit for them.
But, with us, we go beyond just mere rankings and help you get an admit to your Dream School keeping in mind your Profile, your short-term & long-term career goals, Return On Investment (ROI) with the program and then Visa Laws. We will firstly take your preferences and categorize your target schools into a dream, competitive and safe to diversify risk and to maximize your chances of getting selected into the school of your choice.
Do you want to make sure that your Application Outshines the Competition?
Are you aware that top schools are highly selective with an acceptance rate of 12%?
There would be more than 10,000 people competing for a spot in your dream school. Though you may have a stellar profile, the chances are that you are still starting at level ground. This is where differentiating yourself from the competition comes into play - With Our Complete Solution, it is designed to ensure you show your application in a way that beats the competition and secures you an admit to your dream college.
Do you want to ensure your profile weakness does not affect your chances of an admit?
Having profile weaknesses such as low CGPA, lack of big work experiences and extracurriculars will come out to be a competitive disadvantage only if they are not compensated or justified properly.
How much confident are you in making sure you justify and compensate for your profile weaknesses?
With us we will help you with profile weaknesses like Gap years, low GMAT/GPA, lack of work experience and help you get into schools like Cornell, Columbia, LBS, Duke and more. Do you want a hassle-free application process with a perfect timeline and meet deadlines without fail? The application process for top schools is a lengthy and tedious process. It needs a lot of effort and time. It can take months of effort to make a perfect application.
With us, you will know exactly when to start and finish with your Tests such as GRE/GMAT, how many days should be allocated for application of each school, especially for the essays and by when should you start approaching your referees for a Letter of Recommendation (LOR).
Are you aiming to increase your chances of getting Scholarship/Funding?
Receiving a scholarship is not very easy especially from top schools, but the best thing you can do is find out the scholarships which you're eligible and fits your profile, apply to multiple 3rd party scholarships and present the schools that you apply with a strong scholarship essay, a combination of these methods can exponentially increase your chances of bagging a scholarship.
With us, we will help you learn how you can leverage your scholarship chances with our well-established framework.
Do you want an all in one solution which covers everything- from School selection to Interview preparation?
To receive an Admit with Top Schools in such cut-throat competition is the result of effective planning, making the right decisions and following the right strategy (Strategizing on which profile elements to highlight, Deciding on the right programs etc.)
But with us, you literally take the burden off your shoulders as we will help you right from school selection to Interview Preparation (and even go a step ahead and help you with scholarships and towards getting funding/loans after acceptance into your dream college) Having said all this, if you are planning to apply for a university abroad, you can be rest assured that our service will fit your application needs perfectly.
ABOUT THE AUTHOR
Abhishek Chandramouli is a Serial Entrepreneur, Change-maker and Researcher. Graduate of New Venture Leadership from MIT Sloan, he started as an intern working on sustainable development projects with United Nations in coaching startups through technological guidance, business plan modelling, IP basics and operational tools to make ventures more sustainable in the digital world. Abhishek is the Co-founder of two startups, Kikai and Kesso, a developer of high-tech assistive technologies for the healthcare industry and online retail/distributorship of customized high-quality skincare & cosmetic products respectively. Abhishek also has the experience of working on research projects internationally with MIT & Harvard, which was focussed on applying system thinking approaches to complex problems in healthcare, Internet of Things and Deep Learning. Abhishek is an alumnus of Corporate Gurukul. For any sort of assistance or queries he can be approached on abhishekchandramouli@gmail.com.
Insight Categories
Alumni Speaks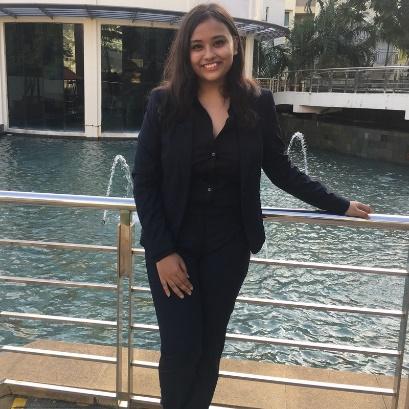 Please login to post comment, like the blog and its associated comments as well