Research Project, Its Significance and Master's Abroad
Research is one of those omnipresent terms which almost everyone has heard of or read it somewhere or the other but haven't realized its real importance. To be able to comprehend the significance of research, it is very important to understand its value. Everything you use or work with, is a result of the progress made by the researchers. Duncan MacDonald has rightly said "The common facts of today are the product of yesterday's research". This is something reputed universities have high regard for and if you know how to channelize things a certain way, it is bound to give you an edge over others.
What is important when it comes to Research Projects and Selection in Universities Abroad?
Research Projects are a whole different ball game in itself, which most people don't completely understand yet. Thousands, if not lakhs of students or researchers, apply to universities abroad or research institutes with the goal of getting selected and hopefully deliver plausible results at the end of their research tenure. Not all of them get selected or are able to live their dream of conducting research in the most reputed institutes. There is a way of making sure that you increase your chances of realizing your dream and it's with a bunch of simple points that we generally tend to forget or miss out on. More on that later, stay tuned. There was a time not long ago when I was one of those thousand aspiring students looking forward to being a part of the research community and being able to do something meaningful, which helps in advancement of technology in whatever way possible and contribute constructively in my field of work.
If, you are interested in some research topics yourself, a few things to keep in mind are:
First, join research only if you are passionate about it, don't do it just because you think it's "cool".
Second, choose your field of research based on what you are really passionate about and not just following the current trending areas.
Third, accept failures. You are bound to face a ton of setbacks during the course of research, so has every other researcher. Failures are a part of the learning so there is no need to worry.
Lastly, remember to stay motivated, determined and committed to it, success may be closer than it may seem.
I had this ambition of going to a reputed international university in a bustling, cosmopolitan foreign country to have the best of both worlds by gaining fantastic academic insights and experiencing cultural growth while pursuing my passion. I had applied to NUS which is a highly esteemed university with excellent research output and got selected. To put it into perspective, NUS is the only Asian University in the Top 11 ranking as per the QS 2019 ranking. For admissions in such a university for a bachelor's student is a feat in itself.
I made it in and so can you! I am sure you must have had enough of me ranting about research by now but point to note would be it's because of a reason. The reason being Master's applications and your chances of selection. If you aspire to study in an excellent university with extremely good reputation and academic prowess this is for you!
Why do students prefer post graduation or higher education abroad?
Students are always amazed by the thought of studying abroad but have you thought of why that's the case? There is a simple explanation that Asians, in general, have the mentality that education abroad especially the US and UK is way better than what's present in their home country. To an extent, I will agree with this thought process as for the longest time the best-ranked universities have been situated in the US or UK. Until very recently we see a change in this, as Asian Universities have been starting to come up and might I add, they have taken over a lot of their competition to be even better placed with NUS on 11th position globally and NTU close behind at 13th.
There is a very solid reason as to why these universities have been climbing the ladder while some have been slipping away and the reason is the method of teaching. How the course material is structured and taught makes a lot of difference.
Apart from the course structure the other aspect which makes all the difference is the passion with which the professor teaches the subject. India has a lot of universities giving out B.Tech degrees and has one of the highest rates of pumping out engineer's in the world which should be a matter of pride for Indians but unfortunately we see industrialists saying that only a small percentage of fresh graduates in India are employable.
The sole reason for that is the above-mentioned points were that the course is not structured according to the current requirements of the industry. Secondly, the professor's when not given enough freedom feel tied down and simply lose their zeal to impart knowledge. When I was selecting colleges for applying for Master's and researching in this aspect these were the two conclusions that I could draw and now that I have spent a considerable amount of time studying at NUS as a Master's in Computing student, I can confidently say that the conclusions mentioned are absolutely on point. The course is very well structured and keeps invoking a sense of relevance to the industry and to top it off the burning passion of the professor's teaching their subjects is an absolutely amazing feeling to experience. The assignments, projects or any activity that you can think of always have some connection with what you will do in the real world out there.
How to improve your probability to get admissions in universities Abroad?
Getting selected into one of these highly ranked universities is very difficult and a feat in itself and hence I write this article which talks about and guides you on what you should be focusing on and how it can help you land letters of acceptance from all the universities you apply to. One of the main contributing factors to me landing offers for Master's from all the universities I had applied to in the UK, Australia or Singapore was my research association with NUS.
World class universities abroad look at the overall profile of the student and not just the marks scored by the candidate. Generally, students commit the mistake of not paying sufficient attention to their overall profile and end up focusing solely on academic grades and I don't blame you for that as the general society perspective and the pressure to score well and gauging a student's calibre accordingly is very prevalent. Marks are definitely important however marks alone can't guarantee success! This is something students and parents both need to understand.
What's the point in having a child who excels at academic subjects but does not understand the implementation of the subject in real life, simply said that type of education is useless. The purpose of the educational system is familiarizing and instilling skills required to understand the basics of society and it's working and having the skills to excel in his or her field of interest to earn his place in society. Only when you try and actualize a book-based concept in the real world will you ask questions like "Why this?", "How?", "Am I doing this correctly?", "Is there a better way of doing this?" which form the basis of a research-oriented mindset. It's simple, questions lead to answers and solving unanswered questions enables you to call yourself an "experimenter" or even better a "researcher".
These points form the basis of the selection process and criteria used by international universities to make sure they accept students who want to learn and excel in fields of their interest and not just students good at memorizing. All I want to emphasize on by saying all this is, pay attention to the actual knowledge gained by you and not just the marks scored and don't get demoralized if you score less. I have friends who haven't scored the best of marks in exams but are excellent at what they do because they understood the concept and know how to convert that knowledge into real world implementation.
Coming back to research, don't think if you have scored less in exams, you won't get selected for research work. You won't fit in till you have a clear picture of what you want to achieve and accomplish. Top Universities value research and hence researchers as well. If you want to gain an edge over other students make sure to do things that make you stand out. Whether it be research internships or research-oriented work, publish research papers, participate in national, international competitions, workshops, fairs, etc. especially if you are pursuing your bachelor's degree and seeking admissions for masters abroad, showcase your real talent and give your profile a boost by adding these achievements to your Statement of Purpose (SOP).
I had published 3 research papers during my time as a bachelor's student at Vellore Institute of Technology, Vellore and still try to write one, whenever I come across something that grabs my attention and I feel like I'll be able to contribute to this. I played my part and am still playing my part wherever possible to keep the progressive part of me alive, who does not get dismayed by negative results and knows to look ahead as it's the only way forward. To summarize, my two cents to anyone keen on seeking admissions to top universities abroad like NUS is to keep questioning and keep looking for answers.
This habit will eventually lead you to places you won't have thought of or act as the wind under your wings which propels you further in the direction of achieving your goals and ambitions that you have been working so hard for. My target of getting accepted for a Master's Abroad at NUS, School of Computing which has an acceptance rate of less than 5% came true and research was one of the contributing factors. To know how I got selected as a research intern at NUS and my pointers for you, stay tuned for my next post. Till then, don't worry about the probability of success, focus on your goal and keep at it!
ABOUT THE AUTHOR
Aditya Ranjan is a Master's student in NUS, School of Computing and is pursuing M.Comp for his masters degree. He has completed his bachelor's from Vellore Institute of Technology, Vellore and has done quite a few internships in diverse fields during his undergraduate studies. He has worked in NUS as a researcher for 6 months working in the field of Blockchain. Apart from Blockchain, Aditya also takes interest in IOT and Business Application of technologies. He is currently also working on a startup of his own which is currently under incubation with NUS Enterprise. Aditya is an alumnus of Corporate Gurukul. For any sort of assistance or queries he can be approached on aditya.ranjan8@gmail.com
Insight Categories
Alumni Speaks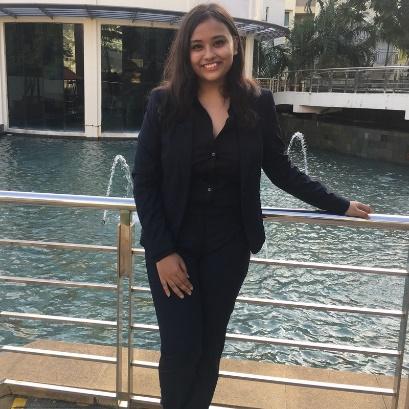 Please login to post comment, like the blog and its associated comments as well